By Amanda Wener
We all went back to the Mountain! Over 3,000 participants, 200 amazing volunteers and dozens of generous sponsors helped return the March to Jerusalem to its roots and made the May 29th event one to remember.
It was truly a wonderful and inspiring sight to see the thousands of Montrealers proudly taking to the streets in a day of pride and spirit for Israel and dancing in the rain at the Masada checkpoint back at Mount-Royal.
This year's March really had a feeling of nostalgia and was reminiscent of the glory days of the March to Jerusalem. Going back to the Mountain brought out numerous families, couples, children and students from all segments of our diverse population and provided a renewed sense of love and commitment for the annual walkathon, which has always been one of the most popular fundraising events for the Montreal Jewish community.
Congratulations to co-chairs Elana Sckolnick and Todd Sone, as well as the planning committee, for such an awesomely successful March to Jerusalem!
Check out the photo album from the March to Jerusalem and watch the video for all the highlights of the day. Be sure to mark your calendars for the 40th anniversary of the March to Jerusalem on Sunday, June 3, 2012! See you back at the Mountain!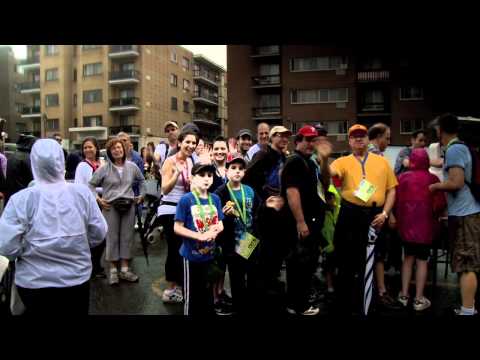 Here's what some people had to say about the 2010 March to Jerusalem:
"We wanted to really go here and have fun and walk so we really wanted to come here today, so thanks for inviting us! It feels good to walk for Israel because we're Jewish people so we're walking here today for Israel."
James, 6
"I'm proud to be a Jewish person."
Louis Alloul, 9
"It's really fun to be with friends and family and walk and support Israel. It's our country and it's in our hearts."
Leah, Hebrew Academy; Dana, Solomon Schecter; and Eden, Bialik
"It's a wonderful cause to support kids who want to experience Israel for the first time."
Lawrence Switzer
"I think it's been 10 years I've been doing the March, if not 15 years. Four kids, seven kids, six kids whatever, we still do it. I think it's a great moment for the children just to see this feeling of Eretz Israel and to be together as Jews."
Karen Gosselin
"To support our Jewish community, for a fun day, kids love it, to help raise money and awareness for Israel."
Jill Kimmel
"I do it every year. It's good exercise and it's for a good cause. It's a solid community. You have to keep together, it's a matter of strength in numbers. Strength is in people sticking together."
Mike Heightner
"We think it's a great family event that supports the Jewish community in Montreal and it supports Israel as well. We're happy to join the March this year with our children and we hope to see the event continue year after year with great success."
Shayna and Aaron Weisz
"Supporting Israel and supporting our Jewish community and celebrate together as a family and with our greater family, the Jewish family. You can take part in something greater than ourselves and you can be involved in community events and raising money to donate for Jewish causes."
Aviva Diamond
"To show our support for Israel, for Jerusalem and for the Jewish community. I think it's very special and unique and we're very lucky to have such a close-knit community."
Tania Korin
"I've been coming since I was 5 years old and it was the most wonderful memory of Montreal, all the time, coming to the March to Jerusalem every year. So I always love coming. This is a wonderful event that you just can't experience anywhere else. To come here and see the whole Jewish community out, supporting Israel for a great cause doing a terrific event as a family, it's a wonderful thing so I really feel part of the Montreal family when I come here."
Clifford Albert
"I've been doing it ever since I can remember, when I was a little kid, maybe 5 or 6 years old with my parents and my cousins and aunt. I found that it's a tradition to do this. I think it's important to show that the Jewish community sticks together, and marches together. I think it's important for the Jewish community to keep together. I went on the March of the Living this year so to go through the death march in Poland and then the Yom Ha'atzmaut march in Jerusalem, I think it's to round it all up to come and do the March to Jerusalem in Montreal, in our hometown. I think that's appropriate to incorporate it all together. It helps you grow as an individual Jew, it helps you understand our history whether you're Sepharade or Ashkenaz, it pulls everyone together and makes every Jew my age when they get older to be a stronger community together because they experience this."
Corey Newman, 17
"It's an annual tradition. I've been a Montrealer all my life and I've been coming each year. We're here with our son today and we really like instilling this family experience and raising funds. I know this year it's for the youth Israel experience and so we find it a very positive experience. I'm really impressed with the Jewish community of Montreal, I really like the events. I found that this year we had a really nice Yom Ha'atzmaut program and Yom Hazikaron as well, so there's been a lot of activity and we're really proud to be Jewish Montrealers."
Laura Segal Artman
"It's a great fun activity for kids and we like to introduce our little one to the importance of Israel. It's part of our identity as Jews."
Natalie Dayan
"I come each year to show my support for Israel first and foremost and because it's a community event and it gives me great satisfaction to be part of a community event and we should continue to go from strength to strength, all of us together. The Jewish community of Montreal is awesome. I think it's a very welcoming, warm and cohesive group."
Les Schiller