When looking to find the perfect work-life balance, family, career and living Jewishly are not necessarily at odds. In fact, according to Arna Poupko Fisher, they can reinforce one another.
Recently, everyone has been talking about Lean In, a new book — or, should we say, life philosophy? — by Sheryl Sandberg, Chief Operating Officer at Facebook. In it, Sandberg opines that in order to achieve the highest level of success, women must learn to "lean in" to everything they do, and to not let internal barriers—like feeling the need to choose between success or family — hold them back.
Agree with Sandberg or not, the question of how we "lean in" to each of the different roles we play in our lives without losing our balance between professional success and personal fulfillment is one many women face. Add to that the challenge of living spiritually, and in walks Arna Poupko Fisher.
Honoured by Jewish Women International—which selects 10 exceptional Jewish women leaders whose achievements are inspiring change in a range of disciplines including culture, community, business, politics, family, science and spirituality—Arna Poupko Fisher is a prime example of a woman who appears to have effectively "leaned In" and found the life/work/spirituality balance that works for her.
"It's not either/or; you can run a business and still be a good mother," she says. Poupko Fisher, who was the first individual to serve as a permanent, full-time scholar in residence for a Federation CJA, is a frequent guest on national radio and television and has published on subjects pertaining to the relationship of Jewish law to contemporary society. She firmly believes her effort to become "a fully evolved mother" helped her kids become "fully evolved people."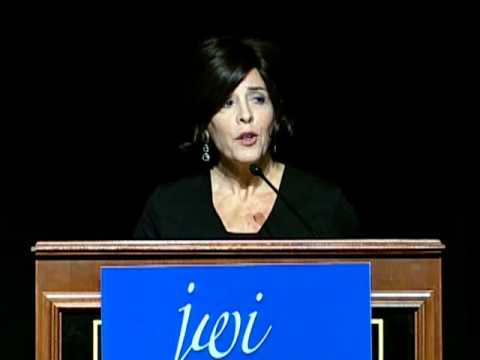 Watch Arna Poupko Fisher deliver her 'Pearl of Wisdom' address at Jewish Women International's "Women to Watch" celebration in Washington, DC.
While Sandberg suggests there are roadblocks on the way to finding balance in our daily lives, she also champions the view that many of these roadblocks are best dismantled by — you guessed it — women.